I've wanted to write this post for ages but my job's dastardly ways have prevented me from doing it.
I thought I'd document some of the things that have cheered me up over the last 31 days. Apart from thinking about Disney World and playing with Baxter, of course!
She can pull some awesome faces!
I happened upon Miranda Sings after watching a collab video she did with Zoella (YouTube vlogs in general are a new guilty pleasure of mine!). Miranda (a character devised by Colleen Ballinger) makes music videos and vlogs of her self-confessed superior (read: tuneless and awful) singing voice and general thoughts and views on things. It's just my sense of humour completely, I actually wish I'd thought of the idea myself but I'm sure I couldn't be this funny.
My brother introduced me to this: it's a phone app (and website) which as you 'like' certain songs it creates a playlist of other songs you might like so it's a great way to discover new music for free. Although I spend most of the time pressing the 'next' button to get to a song I know which completely defeats the purpose! But I have found some new music and rediscovered some old ones I'd forgotten and had many a dance round the kitchen while cooking the dinner. Some of the app's decisions can be quite amusing as well: I'm not sure what I've 'liked' to trigger this but it seems absolutely desperate to play me songs by Lindsey Lohan and Paris Hilton!
By Gabrielle Bernstein. I'm currently on Day 14 of this 42 day course and  I've found it has made a big difference already. It's based on "A Course in Miracles" and the work is essentially centred around retraining yourself to choose love, forgiveness and gratitude over fear. If you're spiritually minded and able to look past the hippy-esque sentiment, which I totally am, then it totally makes sense to live this way but surprisingly it's not easy – a. because you're used to thinking from your ego rather than from your higher self and b. because your ego is trying to "protect" you from change and other scary things such as having trust and faith in hope and happiness. But my attitude is, at this point I have nothing to lose by giving it a go.
Soap & Glory Sugar Crush Body Wash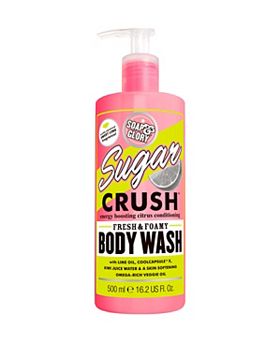 Apologies to any gents reading because this is probably too girly for you, although by all means give it a sniff if you feel so inclined! Because it smells amazing and every time I shower I inhale the  lemony-sugary-sherberty scent deeply and it just makes me smile!! They also do a scrub and body buttercream, the latter of which is especially lovely.